Watertown Chiropractor
Dr. Sam Vassallo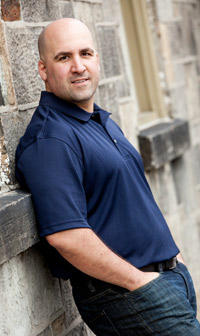 "Our family doctor told us that if we ever went to see a Chiropractor, he would no longer be our family doctor".
It all started with my father having a long history of back and hip pain. It seemed every time he addressed these issues with his family doctor the only thing that came from it was a new prescription medication and its "just arthritis". We had heard from many acquaintances that my father should consider giving Chiropractic a try. Being a new concept to our family we addressed it with our family doctor and much to my surprise he was completely against the idea without any reason. I found his reaction to a simple question to be unprofessional and what if Chiropractic care could help, shouldn't he be looking in my fathers' best interest?
We took the recommendation from several of our friends and set up our first appointment. After a concentrated course of care, my father was much improved, he was more active and in less pain doing the things he loved while off all prescription pain medication. Wow, why were we not introduced to this available, safe, non-invasive form of health care? The overall experience, the results my father achieved, the education of Chiropractic, your spine and the nervous system, the positive environment in the office with the staff and other patients' that improved the quality of their lifestyle personally moved me not only to become a patient but also drove me into becoming a Chiropractor today.
I received a Bachelor of Science in Bio-Chemistry at Brock University in St. Catherines, Ontario, Canada. I then continued on to earn my Doctor of Chiropractic degree at New York Chiropractic College, in Seneca Falls, NY.
We are dedicated to helping you achieve your wellness objectives.
Patients seeking treatment at Family Chiropractic Care with Dr's. Vassallo are assured of receiving only the finest quality care through the use of modern chiropractic equipment and technology. From pregnancies to new born, young to senior, healthy or injured, Dr. Sam Vassallo and Dr. Mandy Vassallo and the staff have a genuine concern for your well-being! It's Your Life… Live it in Health!
After graduating from Chiropractic College, both Dr. Mandy & I decided to get married and start our successful careers and family in Watertown, NY. We currently have two beautiful, active & healthy children, a boy Gabe and a daughter Molly. We strive to equally balance the demands of our family, our personal time and business needs. We enjoy both winter activities such as hockey, skiing, snowboarding and most importantly summer time on the water.
Having your spine checked regularly is an important part of your overall health. You are a direct product of your lifestyle, so with that in mind our family focuses on incorporating a balanced diet with portion control, nutritional supplements, daily exercise, sufficient sleep and proper hydration to promote a healthier lifestyle.
Thank you for visiting our site. We look forward to meeting you in person and learning how we may be of service to you. If you have any questions, please give our Watertown office a call or email me using the link below.